It's time to take soil seriously. As the Intergovernmental Panel on Climate Change states with very high confidence in its latest report, land degradation represents "one of the biggest and most urgent challenges" that humanity faces.
The report assesses potential impacts of climate change on food production and concludes that rising atmospheric carbon dioxide levels will reduce crop yields and degrade the nutritional quality of food.
To avert climate catastrophe, the report warns, people need to make changes in agriculture and land use. In other words, it's no longer enough to wean society off of fossil fuels. Stabilizing the climate will also require removing carbon from the sky. Rethinking humanity's relationship to the soil can help on both scores.
Soils under stress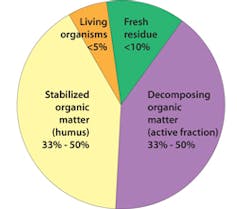 Healthy, fertile soils are rich in organic matter built of carbon that living plants pulled out of the atmosphere through photosynthesis. Carbon-rich organic matter helps fuel the soil organisms that recycle and release mineral elements that plants take back up as nutrients.
But soils release carbon too. And the frequent tillage and heavy fertilizer use that underpin modern conventional agriculture have accelerated degradation of soil organic matter, sending more carbon skyward – a lot, it turns out.
The new IPCC report concludes that globally, cropland soils have lost 20-60% of their original organic carbon content. North American farmland has lost about half of its natural endowment of soil carbon. On top of those losses, modern agriculture consumes a lot of fossil fuels to pull plows and manufacture the synthetic nitrogen fertilizers that farmers rely on to coax large harvests from degraded soils.