By HOU LIQIANG | China Daily | Updated: 2021-09-29
https://www.chinadaily.com.cn/a/202109/29/WS6153bdc4a310cdd39bc6c3f9.html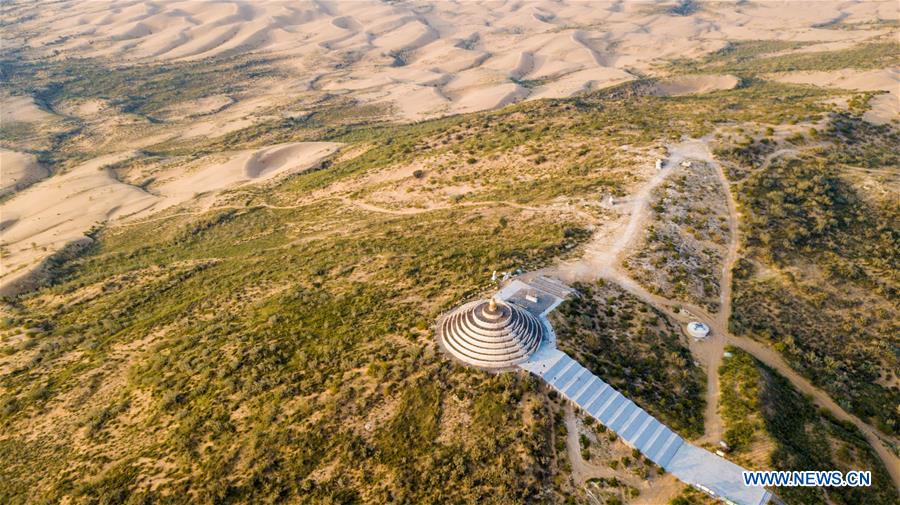 China's successful experiences controlling desertification and land degradation offer an instructive solution for the world to mitigate and adapt to the global climate crisis, officials said.
They made the remarks as the two-day Kubuqi International Desert Forum opened in Ordos, Inner Mongolia autonomous region, on Tuesday. It is the eighth edition of the biennial forum since the first event was held in 2007.
By firmly sticking to a green development philosophy, China has managed to reverse the exacerbation of land degradation and desertification, said Wan Gang, vice-chairman of the National Committee of the Chinese People's Political Consultative Conference.
Addressing the opening ceremony via a video link, Wan, also president of the China Association for Science and Technology, said the country has seen the area of land that suffers from such problems decrease for over 10 consecutive years.
Kubuqi, China's seventh-largest desert, is one of the best examples of that positive progress, he said.
A combination of charitable contributions and industrial development has seen almost 646,000 hectares of the desert afforested, he said. Aside from generating a remarkable improvement in local biodiversity, afforestation has lifted over 100,000 rural residents out of poverty.
Wan said the mode of afforestation and the many desertification control technologies that emerged in the Kubuqi have been introduced to countries involved in the Belt and Road Initiative, including Pakistan, Uzbekistan and Saudi Arabia, offering a solution to control the 36 million square kilometers of land around the world that is affected by desertification.
"I look forward to seeing China join hands with even more countries and regions in preventing and controlling desertification to promote global green and sustainable development," he said.
Referring to the forum as a "continuing success", Ibrahim Thiaw, executive secretary of the United Nations Convention to Combat Desertification, commended China on its afforestation endeavors and called on the world to enhance land management.
The forum advances the fight against desertification and land degradation, and shows the value of collaboration at all levels in tackling issues such as biodiversity loss and climate change, he said.
"In particular, it highlights the importance of restoring the balance between people and nature," Thiaw said.
He said the loss of fertile lands and the impact of climate change, combined with the COVID-19 pandemic, have underscored the importance of accelerating a green revolution to save the environment and make Earth a better home for everyone.
"Through more frequent and severe natural disasters, nature is sending us a message which we choose to ignore at our own risk," he said. "Therefore, all countries need to embrace innovative, coordinated, green and open development for everyone to achieve a green recovery in the post-COVID-19 period."
President Xi Jinping announced last year that China aims to see carbon dioxide emissions peak before 2030 and achieve carbon neutrality before 2060.
"These are urgent global goals for slowing if not holding the rate of climate change," Thiaw said.
Land-based solutions are essential for climate mitigation, adaptation and resilience building, he said, adding that sustainable, integrated, systematic and innovative land management can help combat climate change by maintaining balance while also providing many benefits.
"China has a well-established terrestrial spatial planning system. It coordinates land use for food security, environmental conservation and urban-rural development," he said. "The new five-year plan to afforest 36,000 square kilometers every year is ambitious but achievable with the political will."
By creating partnerships in ecological and environmental governance, scientific and technological innovation, energy transformation and green financial development, and with the vision of carbon neutrality, "we can make Earth a better and safer place for future generations," Thiaw said.